The Green Building Council South Africa (GBCSA) is proud to announce that it has awarded 740 green building certifications since the first building was Green Star SA certified in 2009.

Together these certifications have a powerful cumulative impact and play an important part in combatting climate change. The 740 certifications equate to approximately 11.6 million square metres of green certified space, and a saving of about 1 150 million kilowatt hours of electricity a year. This in turn means some 1 400 million kilograms less carbon dioxide will be emitted each year, which is the equivalent to taking about 345 000 cars off the road in a year.
We have come a long way since the first certified building in South Africa. Our flagship green building rating system – Green Star SA – evolved to become Green Star Africa and is now awarded throughout Africa. Green Star has been bolstered by the Net Zero rating tools, and the GBCSA has also been the sole certifier of the Excellence in Design for Greater Efficiencies (EDGE) Homes rating system for new residential developments in South Africa, since 2015.
We are also pleased to announce that we have expanded our suite of green building rating tools, and are now licensed to award EDGE certification for all EDGE typologies in South Africa and, throughout the rest of Africa. This includes EDGE for Hospitality; Healthcare; Education; Offices and Retail throughout Botswana, Zimbabwe, Rwanda, Namibia, Kenya, Mauritius, Uganda, Tanzania, Morocco, Ethiopia, eSwatini, Lesotho and Mozambique.
Using trusted and robust rating systems, including Green Star Africa, Net Zero and the IFC-developed EDGE green building design tool and certification system, we look forward to hundreds more certifications in the near future, as green buildings play their important role in mitigating climate change.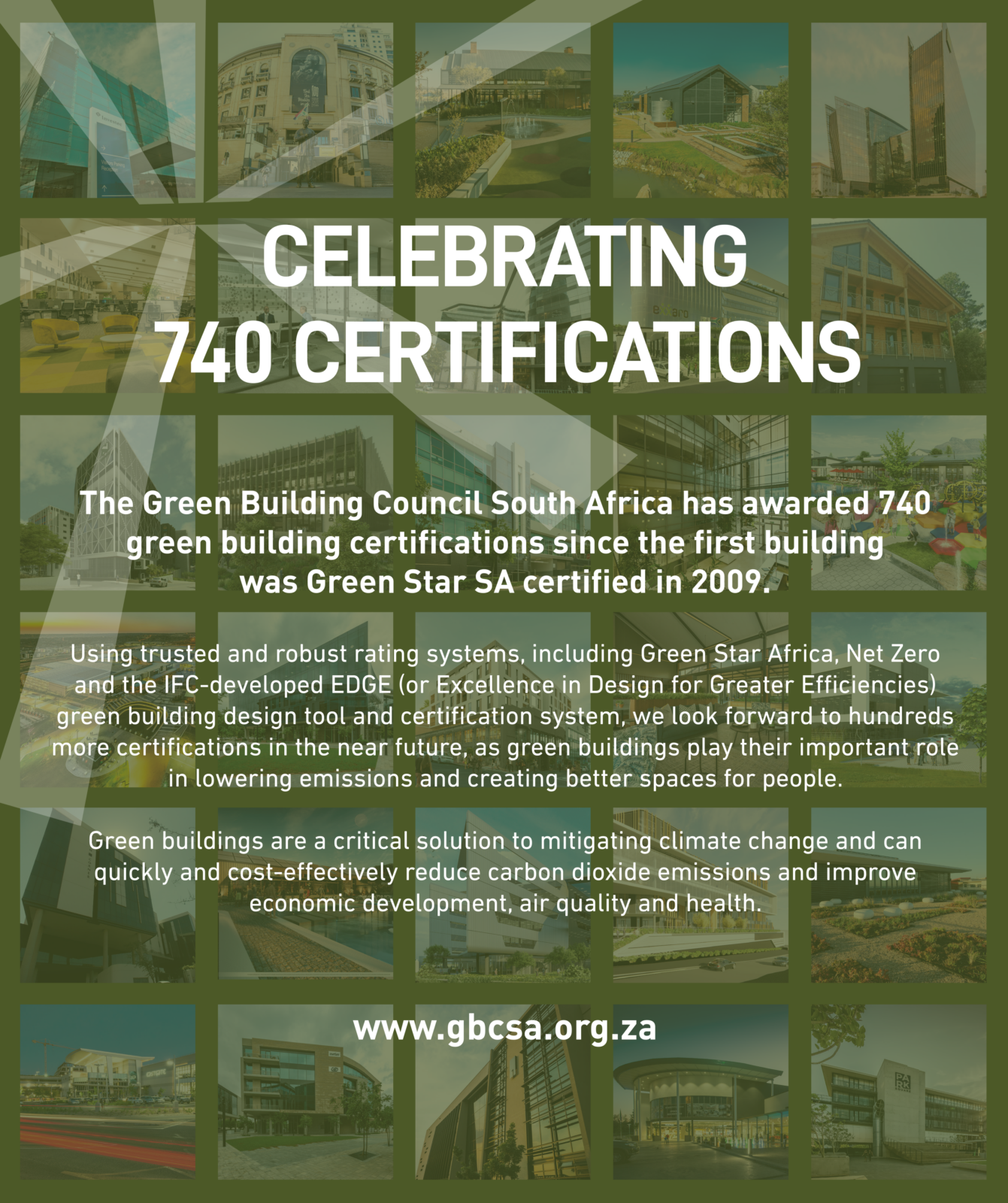 Why green buildings?
The built environment is a big contributor to climate change – globally the real estate sector contributes one third of global emissions according to the International Energy Agency. This means there is much room for improvement in the built environment, particularly in South Africa, where our coal-fired power stations mean that the electricity used to build and operate buildings has a high carbon footprint. The good news is that green buildings are one of the lowest cost, highest impact ways to tackle some of the environmental issues that lead to climate change.
Using tried and tested principles and processes, and already available technologies, particularly in energy efficiency, green buildings can quickly, and cost-effectively reduce carbon dioxide emissions and improve local economic development, air quality and health.
Benefits of green buildings include:
Environmental benefits: Green buildings minimise resource depletion and pollution; Increase renewable energy and energy efficiency; Improve water efficiency and resilience; and less waste and emissions are produced.
Economic benefits: Lower building maintenance costs; Lower electricity spend; Lower water spend; Lower vacancy rates; Increased marketability; Future-proofed investment.
Health benefits: Increased cognitive function of occupants; Boosted workplace productivity; Fewer sick building symptoms; Lower airborne disease transmission; Promotion of eco-friendly behaviours.
The IPCC's sixth report highlighted that climate change is already widespread, rapid, and intensifying. Stabilising the climate will require strong, rapid, and sustained reductions in greenhouse gas emissions, and reaching net zero carbon dioxide emissions. With increasing urbanisation in South Africa, we must ensure that our cities grow more sustainably.
The GBCSA is a member of the World Green Building Council and shares the overarching goal of moving towards a path of net zero carbon new buildings by 2030 and net zero existing buildings by 2050. We are working with national and local government, NGOs and the private sector, and participating in technical research on how we can make these goals a reality in the South African context.
Every year in early October, villagers would begin preparing their fields in anticipation of the annual rains, reminisces subsistence farmer Jantjie Ramokone.
After the rains, they would use oxen to plough their patches of land. There was one hectare per household on the outskirts of the village as allocated by the traditional authority. The villagers cultivated sorghum, millet, mealies, melons, beans, morogo, sweet potatoes, pumpkin and other crops. They also tended cattle and goats to provide milk. During the rainy season, the veld around the village teemed with wild fruit that supplemented their
About GBCSA
The GBCSA is a member-based organisation, working with its wide-ranging membership community to inspire a built environment in which people and the planet thrive. We do this through certification of green buildings, green building training and professional development and advocacy to raise awareness and share knowledge on green building.
We operate across the commercial, residential and public sectors to ensure that buildings and homes are designed, built and operated in an environmentally sustainable way. Our combined influence drives competitive, viable and professional membership advantages. GBCSA's affiliations enable access to a community of experts at home and abroad. We are one of about 75 members of the World Green Building Council. Together we create an experienced and trusted platform for advocacy, training and certification.
For more information, visit our website gbcsa.org.za or connect on LinkedIn, Instagram, Facebook or Twitter.